The Corus International family of organizations is committed to preventing, mitigating and responding to gender-based violence (GBV) globally. Mental health and psychosocial needs are deeply intertwined with GBV, as survivors often grapple with profound emotional and psychological trauma. Addressing these psychosocial needs is essential in helping survivors rebuild their lives, healing communities and breaking the cycle of violence.
Corus organization IMA World Health is on the frontlines of providing critical psychosocial support to survivors in the Democratic Republic of Congo (DRC), where years of insecurity and conflict alongside deeply rooted gender inequities have contributed to high rates of GBV. Funded by USAID, our Counter Gender-Based Violence Program (known locally as Tushinde Ujeuri) employs a holistic approach to addressing GBV that champions mental health support alongside medical care, legal services and social and financial recovery.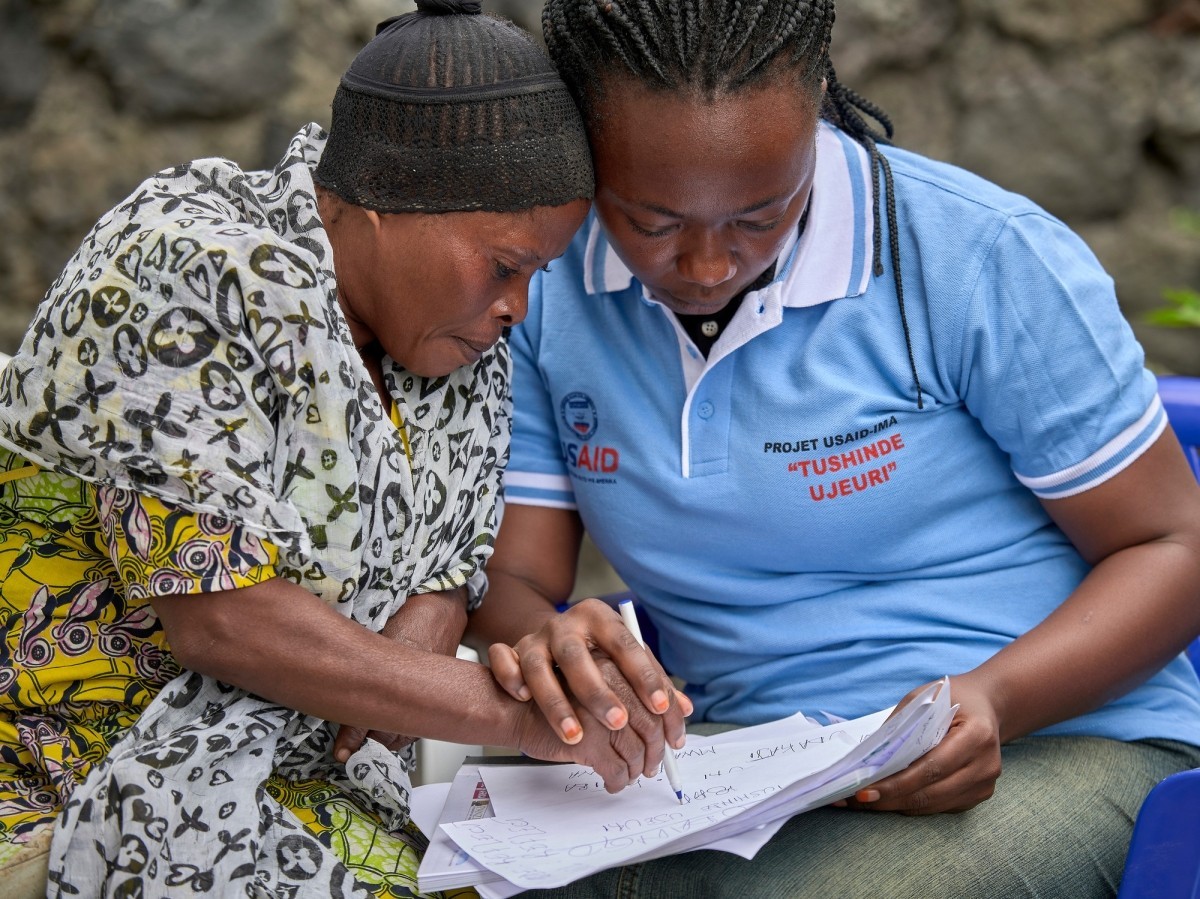 Psychosocial support
Psychosocial care is an integral part of delivering comprehensive services to survivors. In the Tushinde project, this starts with client screening and counseling. All survivors are offered at least one week of counseling from locally trained psychosocial agents (APS) who also serve as de facto case managers for survivors, helping them navigate and access all voluntary services available to them.  
One such local counselor and social worker is Baraka, who plays a pivotal role in helping survivors and their families cope with the aftermath of GBV. Counselors like Baraka work not just with survivors, but with family and community members to address discrimination and stigma holistically. In her work advocating for a girl that had been assaulted, she explains that she worked with male community leaders to ensure the girl could return to school with a support system in place to avoid discrimination. Thanks to her advocacy, Baraka is happy to share that, "Now, she's back in school."
To date, 23,450 individuals have received psychosocial services offered by the Tushinde project.
Supervised by psychologists, field-based APS like Baraka not only provide counseling and unwavering support, but they screen for signs of post-traumatic stress disorder (PTSD). Survivors requiring additional assistance are then referred for Cognitive Processing Therapy (CPT), an evidence-based group psychotherapy approach conducted over 12 weekly sessions. Originally developed to treat PTSD and depression among sexual assault survivors in the U.S., IMA World Health partnered with the University of Washington and Johns Hopkins University to develop an apprenticeship training model for CPT implementation and adapted the approach to support female GBV survivors in eastern DRC.
Community-based healing
Additionally, the Tushinde project has piloted community-based trauma healing (CBTH) as an innovative strategy to improve individual and community resilience to trauma. Working with community health committees, the project identified and trained 80 CBTH Companions to work in communities most affected by post-conflict trauma. The CBTH Companions facilitate interactive, de-traumatizing community sessions. These sessions — which include survivors, potential perpetrators (known instigators or promoters of violence), traditional leaders and faith-based leaders — focus on the causes and effects of trauma, and how to constructively deal with anger and expressions of trauma. To date, 23,350 trauma survivors and other members of the community participated in 1,083 trauma healing sessions.
Nearly 1.5 million community members have been reached with GBV prevention messages in the DRC through IMA World Health's programming.
The Tushinde project stands as a testament to the importance of mental health and psychosocial support in the fight against GBV. Through the tireless efforts of local counselors like Baraka, and with comprehensive, survivor-centered strategies for trauma healing, survivors can not only access essential care, but communities can heal together.