The Corus International family of organizations is committed to preventing, mitigating and responding to gender-based violence (GBV) globally. GBV is not only a violation of human rights that undermines the safety and dignity of individuals, but it is a public health crisis that destabilizes the economic stability and security of communities and nations.  
Corus organization IMA World Health is our technical lead on combatting GBV, having integrated interventions to address GBV and social behavior change communication (SBCC) around women's empowerment into broader health programs for more than a decade. As climate change, violence and political and economic crises send more countries into fragility, it is paramount that we learn from the successes and challenges of work done to advance women's health and wellbeing in fragile settings. 
At the 2023 Women Deliver conference in Rwanda, panelists from IMA World Health had the opportunity to highlight comprehensive efforts to support women's health and address GBV. The event brought together esteemed technical experts: 
By drawing on key lessons from projects throughout sub-Saharan Africa, they offered best practices that can be replicated across contexts.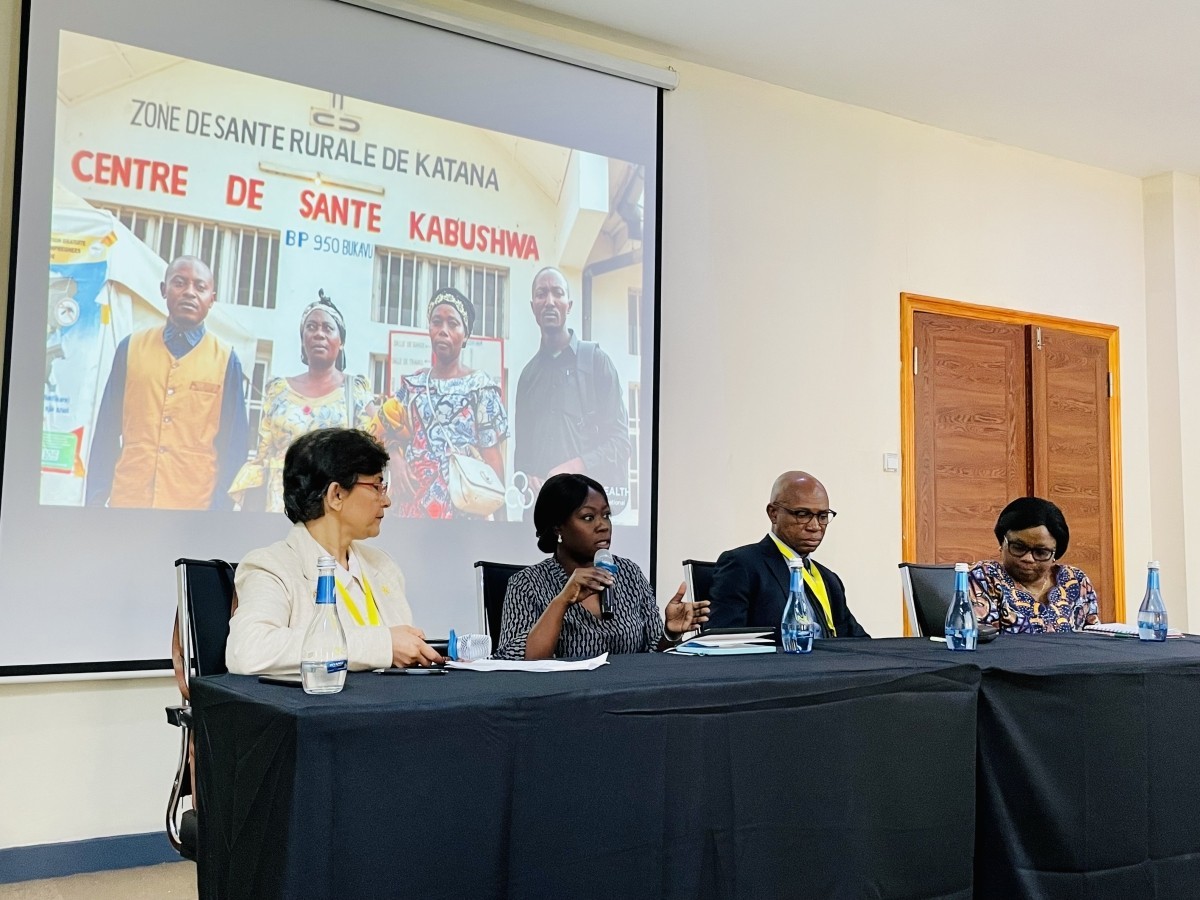 Community-driven solutions
"We ensure that programming to address GBV is accepted by the community because the work is DRIVEN by the community." – Charles Makongo
IMA World Health's efforts to combat GBV over the past decade would not have been successful without a steadfast commitment to localization. Charles Makongo shared his experience with the USAID-funded Counter Gender-Based Violence program, better known as Tushinde Ujeuri, which supports communities in eastern DRC to prevent and respond to GBV with the goal of reducing violence, combatting stigma and improving holistic care for survivors. He explained that by centering the community in project design from the outset, they developed a sense of ownership that has been critical to uprooting deeply entrenched negative gender norms and has led to better acceptance and sustainability of GBV prevention and response initiatives. Charles also discussed how we use community-based trauma healing (CBTH) to reintegrate survivors into the community through the facilitation of trauma discussion groups. CBTH sessions are led by local facilitators and improve individual and community understanding and perceptions of GBV and its wide-reaching effects.
Working with and through local networks and partners is central to IMA World Health's approach in the USAID-funded MOMENTUM Integrated Health Resilience project. Laura Elisama emphasized the importance of engaging community health workers and local stakeholders across South Sudan's health system to respond to challenges so that women, children and families can access safe and equitable health care. She said it is only by collaborating with those embedded in the community that health care services can remain uninterrupted, especially during times of upheaval.
Comprehensive survivor-centered care
"Waiting to provide treatment after an assault occurs is never enough. Effectively addressing GBV in communities requires engaging with the justice system, community leaders, psychosocial health care, financial mechanisms and more. It is about the intersection of prevention, mitigation and response."  - Dr. Alice Mudekereza 
Prevention, mitigation and response are all required for an integrated, comprehensive approach to addressing GBV and its root causes. GBV endures because of insecurity, conflict and restrictive gender norms and behaviors, as well as imbalanced power structures inside homes, within communities and across systems. In order to address these structural factors, Noshaba Zafar emphasized how we challenge harmful practices through conflict resolution and social and behavior change strategies while adopting Do No Harm (DNH) policies to mitigate GBV risks. By strengthening local capacity and supporting health systems in fragile settings, we adopt a survivor-centered approach that prioritizes safety, respect, nondiscrimination and confidentiality.
In regions scarred by conflict, Dr. Alice Mudekereza has seen that over 60 percent of GBV cases involve sexual violence, resulting in devastating physical and psychological repercussions for survivors. IMA World Health's GBV Response Through Post-Exposure Prophylaxis (PEP) Kit Procurement and Distribution project, funded by USAID's Bureau for Humanitarian Assistance, provides immediate medical care to survivors and reduces the risk of HIV and STI transmission. However, with prevention being just as crucial as post-assault care, Dr. Mudekereza highlighted the project's efforts to work with health care providers and the justice system to advance a comprehensive approach to combating GBV. Furthermore, she explained that in our DRC programming, survivors can find socioeconomic support through enrollment into village savings and loans programming, skills-building in literacy and referrals to other income-generating activities.
Allies for change
"Engaging youth, and including boys in particular, is a crucial aspect of shifting attitudes around gender equality and preventing GBV. Adolescents are more open to change so education around gender dynamics helps to shape a future generation that stands against violence and upholds the rights of women." – Lauren Elisama 
A recurring theme that emerged in the panel discussion was the role of engaging men, boys and youth as allies in the fight against GBV. Charles emphasized that tackling GBV requires breaking down societal barriers that perpetuate violence against women. Engaging with men is key to challenging negative social norms and promoting a positive model of masculinity that rejects violence and discrimination. By involving men as advocates for change, IMA World Health has been better able to dismantle the traditional power dynamics that perpetuate GBV. 
Laura stressed that adolescence is a critical stage in shaping attitudes and behaviors, and by involving young boys and adolescents in conversations about gender equality, we can instill values of respect and non-violence from an early age. Empowering young boys to challenge harmful stereotypes and support their female peers lays the foundation for a future generation that is committed to breaking the cycle of GBV.
Noshaba reiterated that working with boys and men is not about placing blame but about fostering understanding and empathy. Men can become powerful allies in the fight against GBV, contributing to creating safer and more inclusive communities.
Learning agenda
"The journey towards a world free from GBV requires collective action and a commitment to learning and growth." – Noshaba Zafar 
Alongside the Corus International family of organizations, IMA World Health's approach to GBV in fragile settings has been marked by valuable lessons around multisectoral collaboration, health systems strengthening and comprehensive care.  
Moving forward, we must continue to address GBV proactively throughout all phases of project design, implementation and monitoring and evaluation. As we champion gender equality and social inclusion throughout our programming, we must continually consider the distinct needs, identities and capacities of marginalized groups, including members of the LGBTQI+ community, people with disabilities and Indigenous individuals. We believe that strengthening local capacity, mobilizing communities, sensitizing health service providers, and embedding strong response mechanisms into communities and health systems can lead to resilient, healthy environments that are free from violence.